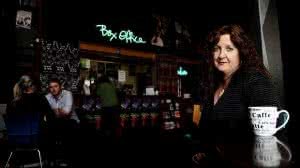 The Childers Group congratulates Caroline Stacey being named as the ACT 'City News'  Artist of the Year for 2012, which is awarded by the Canberra Critics Circle.
Caroline  is a very fine example of someone who is making a significant contribution to the creative life of the ACT Region.  She is known for her artistic daring and her tenacity, and she's been an influential advocate for the arts, particularly in terms of theatre.
It is most fitting for Caroline to be recognised in this way, and it is encouraging for all of us who are working to see the arts being placed at the very centre of Australian life.
Caroline Stacey is the Artistic Director/CEO of the Street Theatre, and is a foundation member of the Childers Group.
The Childers Group congratulates all the artists who received awards and the Canberra Critics Circle for its work in honouring creative excellence in the ACT region over the last twenty-two years. This, too, is an extraordinary achievement.