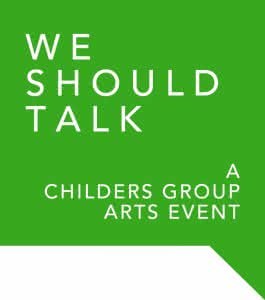 Calling all emerging arts leaders in the ACT region – this is your chance to be heard!
We Should Talk is the first in a series of informal networking and discussion opportunities for the ACT region's arts sector, presented by the Childers Group.
Local emerging arts leaders Jack Lloyd (Belconnen Arts Centre), Rosanna Stevens (Scissors Paper Pen), Yolande Norris (BIG hART) and Michael Bailey (ACT Museums and Galleries) will facilitate discussions that allow you to raise the big issues in arts leadership in the ACT and start to identify new directions for the sector. We want to hear your thoughts on what is important to you – from skills development and career advancement, to balancing work and life and art – and to find answers to the burning questions.
When and where is this happening?
4pm-6pm on Wednesday 30 September at CMAG.
This will also be an excellent time to meet other emerging leaders and build your networks over a glass of wine. Established arts leaders are of course welcome too – come along and meet the kids who will run the joint in a few years.
Admission is free ($10 donations encouraged and gratefully appreciated, at the door), the bar is open (18+ only, sorry) and bookings are essential via Eventbrite.
We can't wait to meet you!
*
We Should Talk is presented by The Childers Group and supported by the Cultural Facilities Corporation.