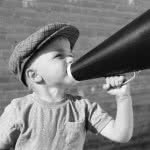 Here's a huge thank you to everyone who attended the Childers Group's inaugural forum, 'Burning Issues and Radical Ideas' last night.
It was completely brilliant to see so many people pack out the Street Theatre stage – there was over a 100 of you up there! – and more spilling into the auditorium. Inspired by our extraordinary special guests – Robyn Archer, Vicki Dunne, Yolande Norris, Caroline Le Couteur, and the utterly unstoppable Omar Musa – we were amazed how forum participants were brave enough to 'move up to the table' and share their burning issues and radical ideas.  Without the artful facilitation of ABC Radio's Genevieve Jacobs, well, we couldn't have done it.
What happens now?  We'll be distilling the notes that were taken – one of the Childers Group members ended up with 10,000 words in his laptop! – and posting them here, as well as forwarding them to all those who are in the position to make the arts in the ACT region really come alive, including the ACT Government, the NSW Government, key arts organisations, just to name a few.  Perhaps most importantly, we hope that you've taken away some great ideas yourself, and that you might even run with them and make them happen.  If so, do let us know how you're going and if there's anything we can do to help.
Please note: we're committed to hearing feedback on all our activities, including the 'Burning Issues and Radical Ideas' forum – you can post comments to us below, or chat to us via our Facebook page, or email us direct if you'd like to be a little more private about it.  We might even sit down and have a coffee with you.  Whilst we're a volunteer-run group without funding and limited resources, we're always interested in new and exciting ways to engage the ACT-region arts community.  And we want your thoughts.  Yes, we're serious.

Much gratitude to our supporters: The Street Theatre, BMA Magazine, and the wonderful folk at New Best Friend for their ongoing graphic design and web-site design and management.
And yes, we'll be doing it all again.  Stay tuned.