20 Nov
The Hon. Barry O'Farrell, MP
Premier
NSW Government
GPO Box 5341
SYDNEY NSW 2001
Dear the Hon. Barry O'Farrell,
CUTS TO FINE-ARTS COURSES OFFERED BY NSW TAFE
On the behalf of the Childers Group, an independent arts think-tank for the ACT region, I write to express considerable concern at reports that the NSW Government will cease offering fine-arts courses through TAFE.
Whilst the Childers Group recognises that the NSW Government is currently undergoing a process to reduce costs, we respectfully but unreservedly suggest that cutting opportunities for people in NSW to access a fine-arts education through the TAFE system is short-sighted and requires urgent review.
The Childers Group notes that many of those educated through the TAFE system find work in the creative industries.  The creative industries are enablers of creative networks and spaces and of new business models. They contribute 2.8% of gross GDP (more than agriculture, communications, and electricity, gas and water supply). The visual arts, design and architecture makes up over 11% of the creative industries and have been growing in terms of employment opportunity.  To significantly reduce opportunities to enter this workforce could not be seen to advance the needs of those living and working in the NSW, particularly those in regional areas.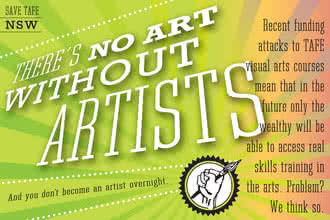 Further, whilst some members of the community undergo arts training through the TAFE system to enable themselves to work in the arts sector, many pursue these opportunities simply as a way of building connections and skills – this is particularly relevant for regional areas where unemployment tends to be higher than metropolitan areas and there is a real need to build confidence and social capacity.  There is ample Australian and international research that draws a direct link between creative practice and personal/community wellbeing.  At a time when social cohesion could be said to be a priority, we suggest that there is a need to fund fine-arts courses at a higher level, not at a lower level.
The Childers Group, which was established in 2011 to be a positive and productive voice for the arts in the ACT region, offers expertise in the visual arts, music, dance, film, theatre and performing arts, youth arts, community arts, and literature.  Our members have local/regional as well as national and international expertise and connections.  We live in and advocate for both the ACT and adjacent regional areas of NSW.  The Group is available to act as a sounding board to the NSW Government in terms of the arts, and we would be more than willing to meet with you direct to discuss this matter further.
To arrange a meeting, or to seek more information, please contact the Childers Group's coordinators Nigel Featherstone or Evol McLeod on 0428 810 442 or 0406 378 889, or via email on childersgroup@gmail.com.
In closing, I strongly urge you to recognise the value of TAFE arts education to NSW and to ensure it continues to be funded at viable levels.
Yours sincerely,
Professor David Williams AM
Spokesperson
The Childers Group –
an independent arts forum
November 2012