14 Jul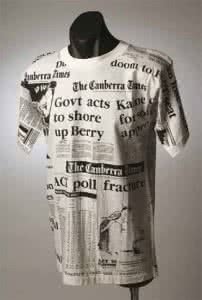 Reports are coming in that there have been significant changes to arts journalism at The Canberra Times.  Two sources are the ABC and City News.  Arts reporter Diana Streak has either been demoted or offered a redundancy, and literary editor Gia Metherall has been told her position is surplus to requirements.  Some questions.  What does this mean for the coverage of local arts coverage in the ACT region?  How will the region know what's happening in their communities?  How will there be an intelligent and articulate discussion about what it means to be a creative part of Australia?  More specifically, what does it mean for book reviews?  No doubt reviews will still happen, but how will regional writers and publishers get their work into the broader public?  Will these changes result in the urbanisation of Australian literature?
The Childers Group understands that newspapers are businesses and that the print-based newspaper business model is collapsing rapidly.  However, we also believe that newspapers have a role to play in terms of making an active contribition to the local communities in which they are situated, regardless of the mechanism – print or on-line or a combination of both.  The arts and all arts communities deserve professional arts journalism.
The Childers Group is seeking your views on the best way to respond to this situtation.  Email us at childersgroup@gmail.com.  In the meantime, we'll find out as much as we can.
UPDATE as at 16 July: We've been informed that a total of three positions have been axed at The Canberra Times: arts editor, literary editor, and features editor.  Apparently The Canberra Times' intention is to focus on digital content, but the question remains: how to provide local arts content without professional and dedicated local arts journalists?
(Image courtesy of ACT Museums and Galleries.)